Equipment
The following equipment is what is being used by Flying Iowa to capture the General Aviations experiences and keep from getting lost. These recommendations are suited best for fellow value-minded aviators.
Portable Transportation
For those jaunts from the airport that are a bit too far to walk, bringing your own transportation can make your world a little smaller after landing.
Foldable bikes and electric scooters fit nicely into the airplane. The Onewheel Pint excels on pavement and off-road conditions and will go around 8 miles on a charge.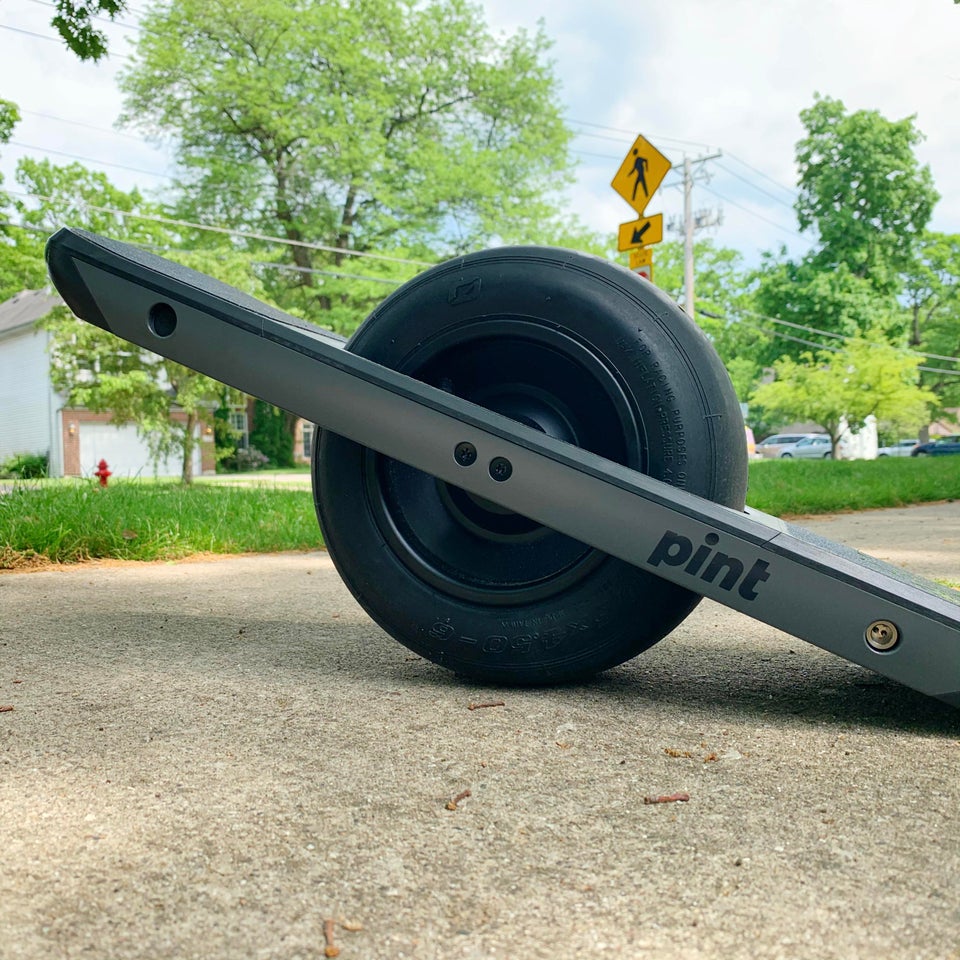 The Onewheel fits into general aviation planes without any folding and is instantly usable upon landing on either grass or pavement.
Aircraft Video Equipment
Video Cameras
Flying Iowa primarily uses the Hawkeye Firefly gyro-stabilized cameras for video recording. This series has a balance of great quality with video stabilization at a reasonable price. Gyro stabilized cameras are preferred since they tend to reduce the "jello" effect caused by the vibration of the mount point. They also reduce the need to post-process the video for vibration.
GoPro also has gyro stabilized cameras starting with the HERO5 series.
External Camera Mounts
For mounting the camera outside the aircraft, Flying Iowa highly recommends the MyPilotPro mounts. We use the non-swivel version and haven't found the need yet for the swivel function.
On Cessnas, these mounts work very well in the tie down loops on the wing struts or in the tail tie down hook. These mounts are ideal for renters as they are easy to install and remove.
Aircraft Audio Equipment
ATC Cockpit Audio Recording
The following cables can be used to split a headset audio jack into a 2nd output for recording. This will enable recording both ATC and cockpit intercom audio. Use any standard audio recording app on your smartphone or a digital audio recorder.
Note that the 3.5mm plugs differ between smartphones and regular digital audio recorders so choose the correctly named cable for your application.
Headsets
Flying Iowa came across the SkyLite brand, took a chance with the original SL-900's and haven't looked back for over 10 years! These headsets have comfortable gel ear pads and are well built for the price. The SL-900M has the MP3 aux input and the SL-900MC are a slightly smaller size for kids or people with smaller heads.
Poor Man's Aircraft Intercom
For planes that are lacking an intercom system for the rear passengers, there is no need to buy a full-up intercom system. The rear passengers can easily be plugged into the main aircraft intercom using aviation headset splitters. There is no noticeable loss in audio quality or strength using these.
Navigation Equipment
Stratux ADS-B Receiver
Stratux is a homebuilt ADS-B receiver that can be built for around $100 and in less than a couple hours. There is an active user community that is supportive if you run into any issues.
There are a few different configurations you can build, we recommend the following components:
Raspberry Pi 3 Model B
2x NooElec NESDR Nano 2+ Software Defined Radio (SDR)

Two SDRs are recommended to receive both 1090Mhz (ES) and 978Mhz (UAT) signals

Acrylic Case w/ Fan
ADS-B High Gain Antenna
8GB SD Card
GPS: Use your phone's GPS, if your internal GPS is poor then use an External GPS

Avare Electronic Flight Bag (EFB)
Avare has been the preferred FREE Android EFB for Flying Iowa. This has many features including free charts and integrates smoothly with the Stratux ADS-B receiver via wifi.
Flying with Kids
General aviation flying with kids can be a great experience with the right equipment.
Seats: In general, whatever seat type you use in your car is what you should aim to use in the airplane. Check the fit in your plane before the day of your flight as each airplane is a little different for how they hook up or fit inside the plane.
Earphones - For kids that can't talk or don't need to talk, the earphones listed below work well and are a slim size.
Headsets - The Flying Iowa kids fly with Skylite SL-900MCs. They fit and adjust well and music can be in-lined to make the ride more interesting.